Zsa Zsa with her last husband, the prince.
"What is really important for a woman, you know, even more than being beautiful or intelligent, is to be entertaining." Zsa Zsa Gabor.
I was never a big fan of Miss Gabor, who died yesterday at 99, but there is no doubting that she lived a full and interesting life, one where laughter and fun reigned supreme. It's awfully hard for me to criticize that.
I remember her throughout my childhood and well into adulthood as a B-list actress and professional celebrity who showed up on innocuous TV shows of wide variety and stood as the center of attention. She made nine mostly forgettable movies (among them "Lovely to Look," "Moulin Rouge," "Death of a Scoundrel," "Queen of Outer Space," and Orson Welles' "Touch of Evil") and more than 40 TV shows.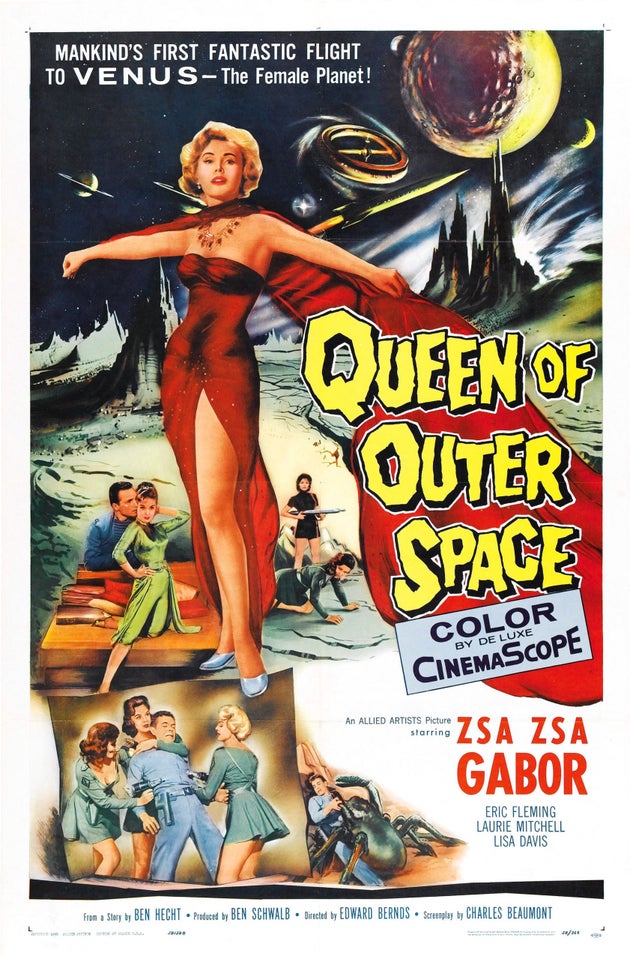 She was married eight or nine times (depending on whom you quote as a source), her last to Prince Frederick von Anhalt, who was adopted by German royalty. She became a princess with that.
Her estranged and often stinging daughter Francesca Hilton (father: Conrad Hilton) once said of her marriage to the prince late in life, "My mother wanted to be a princess, so she married an evil queen." One does not have to think long and hard to understand the reference there.
Her sister was Eva Gabor, who played on the TV show "Green Acres" for many years, something ofp a Zsa Zsa Lite.
She had a light and breezy personality and was quick with one liners, like:
"I am a marvelous housekeeper. Every time I leave a man, I keep his house,"
"

I want a man who's kind and understanding. Is that too much to ask of a millionaire?"

"You can say I'm full of shit — but don't say I'm old."

"I never hated a man enough to give his diamonds back."

"Being jealous of a beautiful woman is not going to make you beautiful."

"It's never as easy to keep your own spouse happy as it is to make someone else's spouse happy."

"The only place men want depth in a woman is in her décolletage."
The quotes are sexist and dated, but they reflect a woman of her age and circumstance with a touch of humor and insight ... again, for the time.
She was once called "
"the most successful courtesan of the 20th century." Among her reported lovers: Sean Connery, John F. Kennedy and Richard Burton.
Her later years were spent in ill health, which is a sad way to fade out for such a vibrant woman.