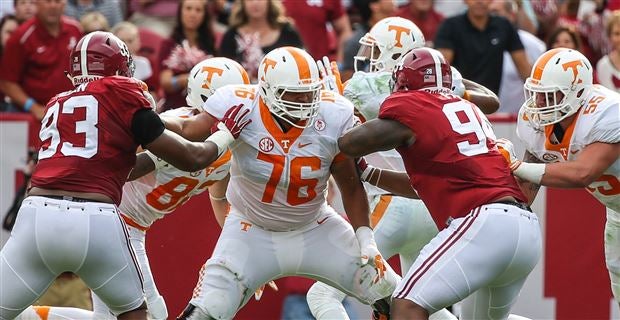 Hall (76) in his first significant game ... against Alabama last year.
Wes Rucker of govols247.com (
here
) is reporting that Chance Hall, a freshman offensive tackle at the University of Tennessee from Roanoke is "making remarkable progress" from an injury suffered before the season began. He is expected to return in the next couple of weeks to a lineup that desperately needs him.
Hall, a Freshman All-America last season, went down in mid-August with a knee injury that required an arthroscopic procedure. That is usually a six-week or so recovery process. Coach Butch Jones is quoted as saying, "Chance is making remarkable progress. He's still probably two-weeks-at-best out. He did travel with the team (to Bristol for the win over Virginia Tech Saturday). He wanted to do it, to get him acclimated to traveling and all of that. He's making progress each and every day." Hall had a lot of TV facetime during the game, standing as he did next to QB Josh Dobbs, something of a media darling.
Hall appeared to be the starting right tackle before his injury and his return, says Jones" will help "immensely." Tennessee struggled mightily in the offensive line against Appalachian and in the first quarter against Tech.
Jones cautioned that "we'll see how it goes. We'll take our time. But when he's ready to compete, he'll get in there and compete like everyone else." Tennessee plays its next two games in Knoxville against Ohio and Florida, a game Hall would almost certainly love to play in.
(Photo: utsports.com)